Awards we have won
It took 18 months of development, 97 formulations, 3 insect species and 2 cricket farms to get our formulations right. It has been important to get the nutritional balance correct whilst reducing our products' impact on the planet. We (probably) provide the world's most sustainable protein powders! And this is being recognised by the industry.
Our Reload product won the UK's toughest health food award – The Nourish Award – in the high protein category.
Reload has won the European Specialist Sports Nutrition Award for most sustainable protein powder.
Recover has been named the recommended protein powder by Men's Fitness Magazine.
In May 2020, I also appeared on BBC1's 'The Customer Is Always Right 'with a Reload prototype.
We're proud that our products are award-winning and hope that this is just the start.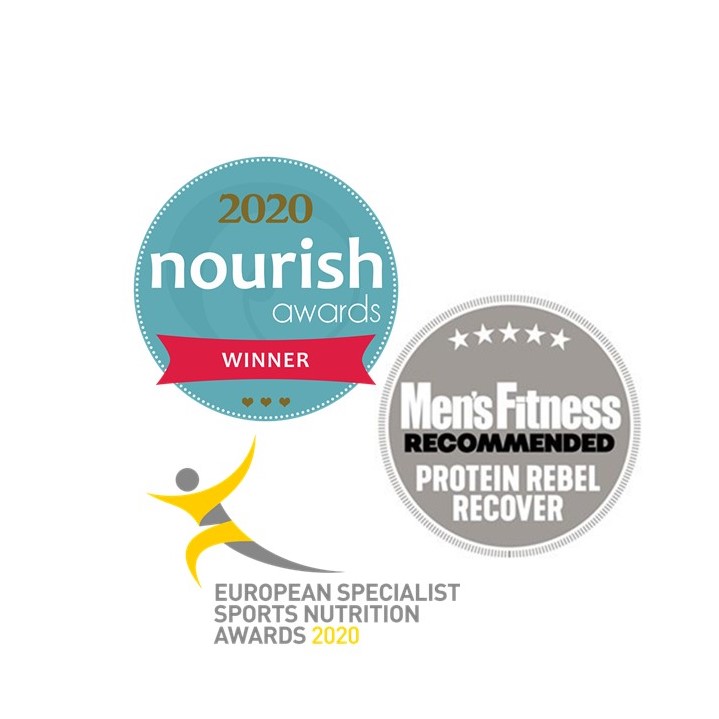 What's Protein Rebel??
We want to help you to run faster, lift more, swim further and cycle longer. We do that by providing you with the right sports nutrition with a focus on protein.
Protein has been a long-neglected macronutrient for endurance and we want to put that right using the highest quality proteins we can find. Yes, carbohydrates are great for energy and are important for endurance, but protein is equally as important. It repairs muscle fibres and makes you stronger, recover faster and at lower risk of injury.
Our products are:
Clean: this means we use easy-to-digest ingredients that have a very low likelihood of causing GI distress. Our ingredients are also dairy free, gluten free, free from artificial additives and with no added sugar.
Kind to the planet: We've chosen low-impact ingredients and our packaging is easy-to-recycle. Plus we've partnered with the World Land Trust to save 1m2 of threatened habitat for each product sold.
High quality and backed by science: We use high quality proteins and are working with leading academics and nutritionists to ensure our claims are science-based and data-led.
Who is it for?
Anyone who:
Cycles over 20 miles
Runs over 5 miles
Swims over 1 mile
Lifts weights for over an hour
You are in good company. There is a growing band of people who enjoy fell running, Ironman, triathlons, ultra-running, marathons, enduro events, CrossFit, mountain biking, and many more sports and endurance events that push your body to the limit!
How did Protein Rebel start?
I got into running and did my first marathon in 2019. Training was hard, the event was hard and the recovery was hard! But what did help was eating the right stuff, especially protein.
I found that the standard, big brand whey proteins didn't sit well on my stomach. So that's when I started investigating alternative protein sources and I remembered the time I first ate insects. After much research, it became clear how beneficial insects are to exercise recovery, not least because they're high in protein. The idea behind Protein Rebel was soon born.
Some of our products are vegan while others use cricket powder as the key ingredient. All products  are kind on the stomach with a lower impact on the planet than dairy proteins such as whey and casein. We're always striving to make the very best proteins for endurance athletes, and are working with academics to actively fill the void when it comes to the science behind how plant and insect proteins improve performance.
Happy running
Tim